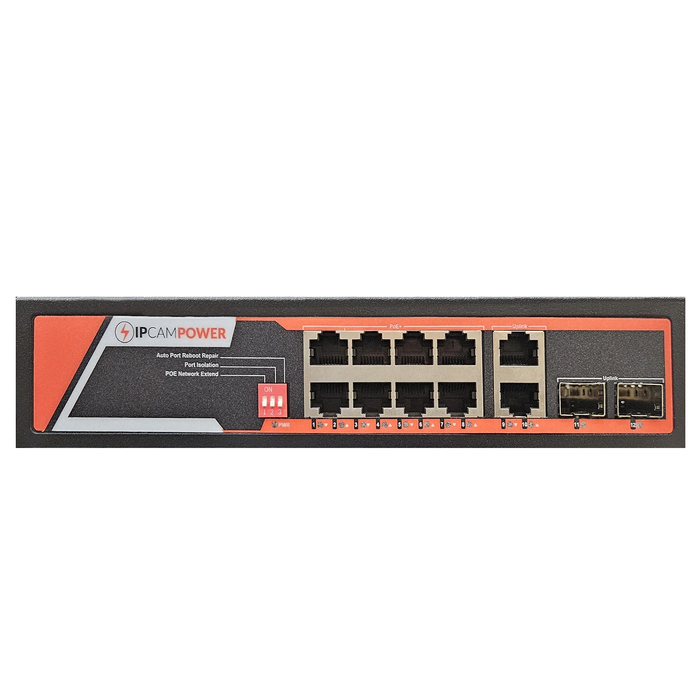 IPCamPower 8 Port Gigabit Unmanaged POE Switch, 30W POE+ (802.3at) per port, 120W Max Budget, Extend Mode up to 984' Cable Runs, 8 POE & 4 Uplink, All Ports Gigabit 10/100/1000
Save

0

%
Save %
Original price
$89.99
-
Original price
$89.99
HIGH POWER EFFECIENCY AND VERSATILITY : Equip your network with 8 Gigabit 10/100/1000 POE ports, each supporting up to 30W (POE+ 802.3at), with a 120W total budget. Perfect for powering IP Cameras, Access Points, IP Phones, and more. Plus, leverage 4 additional gigabit uplink ports (2 Ethernet, 2 SFP) for high-speed non-POE connections to other switches and routers.

GIGABIT SPEEDS & ENHANCED BANDWIDTH: Optimize your network with all 12 ports offering full gigabit throughput (10/100/1000), ensuring high-speed data transfer, low latency, and superior bandwidth. This device boasts sufficient bandwidth to accommodate a wide array of POE devices while also offering robust support for non-POE equipment, including computers, servers, and media devices, ensuring a versatile and comprehensive networking solution.

EXTEND MODE: RUN CABLES UP TO 984': Simplify your long-distance connections with the unique POE Extend Mode, allowing continuous cable runs up to 984'. This adjusts speeds on the affected runs to 10 Mbps which is adequate for most all IP Cameras, but unlike other switches with this feature, this switch will only apply it to ports with cable runs over 100 meters, while maintaining gigabit speeds on all ports under 100 meters. An essential feature for IP Camera Installers.

PORT ISOLATION & REBOOT REPAIR: Enhance your network's defense with the Port Isolation feature which prevents network traffic communication between the POE ports and only allows the traffic from each of those ports to be passed to the uplinks, acting similar to a VLAN. Additionally, Auto Port Reboot Repair provides resilience, automatically detecting and resolving power or network anomalies by rebooting compromised ports, ensuring uninterrupted, secure operations.

ROBUST DESIGN & 3 YEAR WARRANTY: Trust in the product's longevity with an industry-leading 3-year hassle free warranty, reflecting a commitment to quality and customer peace of mind, affirming this switch as a solid network infrastructure investment. 8.5" Wide x 5.625" deep x 1.75" Thick.