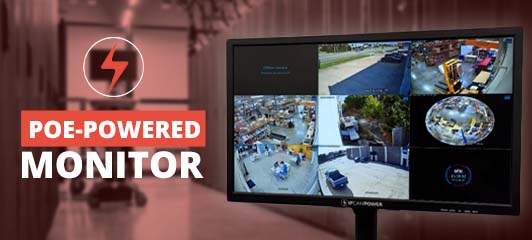 This PoE-Powered Monitor is a Game Changer for IP Security Setups & More!

Finally, a PoE-powered monitor! We're not joking. This 21-and-a-half-inch monitor is powered via PoE. All you'll need to do is run a network cable to the monitor and use a PoE switch or injector for power. This is going to allow you to have up to 330 foot cable runs. Some of the other impressive specs on this monitor include a built in 12V DC output, LAN port, and a USB power output. It also comes with a stand and is VESA mount compatible.
Here's a quick overview of the rest of the specs.
In addition to PoE, you can also power the monitor with a 12V DC input.
Powering the monitor through PoE? You'll be able to use the 12V DC connection as an output that provides up to one amp of power to any 12V DC powered device.
There's also a LAN out port, meaning your monitor can double as a single-port Internet switch.
You can also connect devices through the USB power output like an Amazon Firestick or Google Chromecast.
The Monitor's Connections
Let's sum that up with a quick overview of the connections that are available on this monitor. You have two Ethernet ports, one for PoE in and one for LAN out. You have your power connection, for either 12V DC in or 12V DC out, depending on whether or not you have your monitor powered with PoE. Next is your audio in connection, for routing audio into your monitor, followed by a USB power port. The next three connections are your video in connections, which include one VGA port and two HDMI ports.
Overwhelmed by the amount of features? We get it. Let's go ahead and break it down by showing you a few use cases for this monitor. You can watch the video below or keep reading to learn more!
---
Already convinced you need this monitor? Go ahead and put it in your cart!
---
Use It As A Standard NVR Monitor
First, this can be used as a traditional PoE-powered HDMI monitor and connected to an NVR. What's cool is the ability to power the monitor with one of the PoE NVR's outputs and running an HDMI cable from the NVR to the monitor. You won't need to take up another power receptacle or add more bulky power cables to your install. This keeps things nice and orderly.
---
Use It As A Long Distance Monitor
If you need to install a small monitor but you don't have a power receptacle, you can simply run a network cable to your monitor and power it with a PoE switch. All you'll need for this is an HDMI extender and a CAT5e Ethernet cable and you'll be able to power a monitor that's over 100' away!
---
Use It To Power Your Security Camera
If you want to install an IP Camera within a few feet of the monitor, let's say 25' as an example. Instead of running another 125' network cable back to the PoE switch, you can simply run a 25' CAT5e cable and a 25' low voltage wire pair from the monitor to the camera.Then, you'll plug the low voltage wire into the 12V DC output via an adapter and plug the network cable into the LAN port. Now your IP Camera is powered up and on the network!
---
Use It As A Media Player
This monitor has so many other features and is so easy to connect, it doesn't even have to just be used for CCTV! It can also be used as a PoE-powered media player. This feature would be great for making it a smart monitor in your home by connecting an Amazon Firestick or Google Chromecast. That could mean Netflix or Spotify literally anywhere in your home or business. It could also be used for digital signage in a retail space to make your brand really standout, and gives you the option to rotate messaging with ease.
---
Netflix everywhere? You need this!
---
Endless Possibilities
The possibilities are endless with this monitor. You can put it just about anywhere and use it for just about anything. The unique PoE powered setup makes installation so easy and all of the ports and extra plugins make it optimal for multipurpose use. If you're looking for a really functional piece to add to your arsenal of security equipment, this is for you!
Want some more ideas? Check out the video below where we show you ten different ways you can use this monitor to make your life easier!